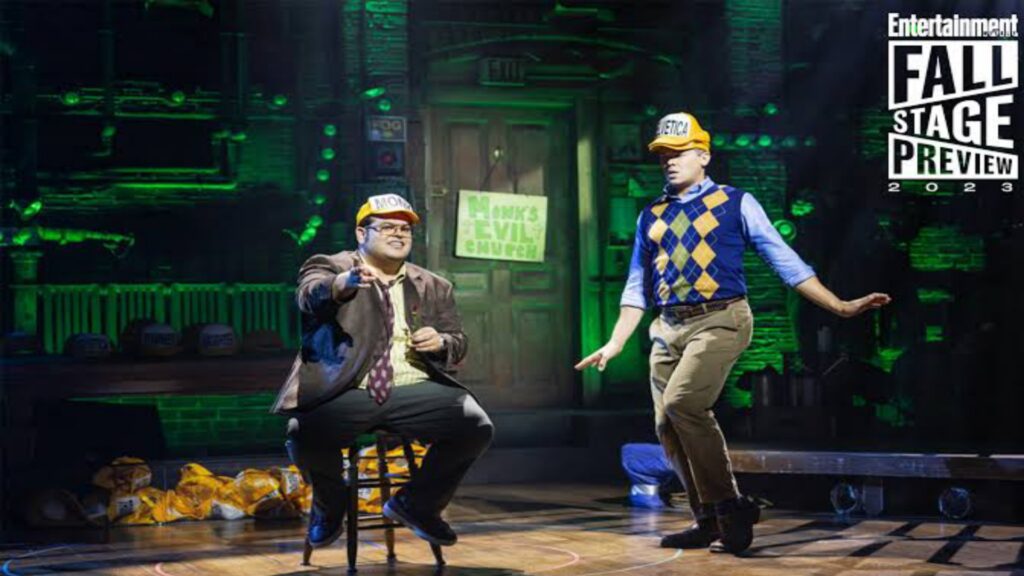 Josh Gad on Returning to Broadway Theatre With Andrew Rannells in Gutenberg The Musical
"Oh my God, what's going to happen?", is present at all times. It undoubtedly keeps us alert, said Gad.
When looking for his first project on Broadway after starring in The Book of Mormon, Josh Gad knew he could find a show with humor and that ideally included his Book of Mormon co-star Andrew Rannells.
Gade and director Alex Timbers initially discussed reviving Stephen Sondheim's A Funny Thing Happened on the Way to the Forum, but dropped the idea due to rights issues. (A revival of The Forum, directed by Timbers and starring James Corden, was in the works in 2014, but was shelved when Corden got his own talk show.) – Broadway theatre
Also Read:- Simone Biles Floor Routine That Secured Gold for Team USA at the 2023 World Championships
And then Timbers sent Ged a copy of Gutenberg! The Musical, which Timbers previously directed Off-Broadway. It was also planned for a shorter run, which suited Gad since he had a family in Los Angeles and a demanding schedule as the voice of Olaf in Frozen at the time, in addition to other impending acting and voice acting projects.
Written by Scott Brown and Anthony King (Beetlejuice), the show follows two friends, Bud and Doug, who are auditioning a patron for a musical about Johannes Gutenberg, the inventor of the printing press. The two know very little about Gutenberg and so their Google research gets distracted into a fictionalized version of history that features two different baseball caps and character voices running around to represent all the townspeople. – Broadway theatre
Broadway theatre
When Gad read the script, he thought it was "one of the craziest things" he had ever read, but also found it "refreshingly original". An informal reading with Gadd and Rennells took place in March 2020, four days later "the whole world stopped", and then the script was resubmitted in late 2022 and Gadd withdrew himself. The show is now running on James. Earl Jones Theater on Broadway and opens October 12.
It was so hilarious that I realized what I did after leaving the Mormon church had to be the funniest thing ever. But what was so fascinating to me was that he had such a huge heart. By the end of the show you have this I was completely blown away by how much you feel and root for the two clowns," said Gadd. – Broadway theatre
The Beauty and the Beast actor spoke with The Hollywood Reporter about the timing of the show, as the writer's strike is winding down and a resolution may be on the horizon for the cast, figuring out hat choreography each night and making plans for the future.
You last appeared on Broadway in The Book of Mormon about ten years ago. Were you trying to come back during that period or did you want to take that break?
I never would have thought I'd take such a long vacation. Over the years, I explored many different possibilities, and each time I was on the verge of acting, my schedule or my family prevented me. Because I've performed in a Broadway production for the third decade of my adult life, the way things turned out is oddly poetic. In my 20s, I participated in the 25th Annual Putnam County Spelling Bee. I did the Book of Mormon in my 30s, and now I'm doing Gutenberg in my 40s.
There's something I really like about it, because the stage is the best equalizer for an artist. You can't fake it. You go there, the audience will hold you accountable. You don't get multiple taxes. If you forget something, they will know. And I like to check in and remind myself what it means to get those laughs, to keep people engaged for two hours, to have that communal relationship with the audience that's so unique to this form of entertainment. . And I really miss it. I missed that engagement.
Given the long run for the Broadway show, I assume you didn't have time to place Gutenberg during Dual Strike, or did you? – Broadway theatre
Everyone keeps coming up to me and saying, "Wow, you picked a really good time to go back to Broadway." I had no idea. To be honest, I thought I would miss a lot of opportunities, and then it all worked out like this. But it was surreal to have the time that it was. – Broadway theatre
As a SAG-AFTRA and WGA member, how do you feel at this current moment? – Broadway theatre
I feel very excited, I think like everyone else, our industry can get back to work. There are many members of the unions who do not benefit from this negotiation, whether it is the IATSE or the Teamsters, or the number of people working on the crew who are not writers and actors. They didn't consent to this, and I'll be honest: it hurts my heart for them.
They are out of a job as a result of standing in solidarity with their other guild members. And I'm really happy that especially those guilds, who, again, have not benefited from this, but hopefully will benefit in the future, they can get back to work in a meaningful way and we can get back.
The business of making things. On a personal level it's been really hard and sad, not even being able to promote my own work, which I really want to, but it's impossible because the SAG strike is still going on. So I'm hoping that SAG-AFTRA and AMPTP can end here, and once I'm done with this, I can go back to my day job.
Does it feel any different to be back on Broadway now? – Broadway theatre
Yeah, all that crap hurts a lot more. Compared to when I was in my early 30s, my body is obviously less limber. Every day I wake up, I have to do a half-hour stretch, a 45-minute vocal warm-up. And you know, it's definitely hard, but at the end of the day, it's also more rewarding because now I know what I know. And working with a fiercely talented guy like Rennells, who is like a brother to me.
We actually have a shorthand and I know he'll always be there for me on stage, and I'll always be there for him. And it's even more enjoyable when you have each other's backs in a situation like that. And I believe the spectators can smell that. I think part of the reason that you know the show is getting, hopefully the kind of buzz it's getting is that people really believe in us together and they really like watching us together. And frankly, it's authentic.
I enjoy sharing the stage with Andrew because I never know when I'll start laughing out loud in the middle of a performance due to anything he does that is either entirely normal or incredibly funny in an original way.
You and Andrew have to switch off in the performance wearing one of the many hats that correspond to the character you are currently portraying. How do you feel about hats and how do you know which hat to grab when?
I looked at Andrew [during the reading], and I thought this would be the easiest thing we'd ever do. We're on the music stand, and it's like we're two idiots. Then Alex Timbers approaches me and says, "We should talk about hats." "What hats?" I exclaim. I nearly passed out when he replied, "Well, for each character, you have to wear hats that represent the character." because I'm one of the Broadway's most unorganized people.
I literally had an anxiety attack. I was thinking, "I have no idea how to do this." To Alex's credit, he held my hand, and everyone was just great, especially Nancy Braun, our incredible movement coordinator and choreographer. They really handled it with kid gloves and made it as foolproof as possible, so that when I'm on stage I feel confident and not scared.
Having said that, the other night, we picked up these hats that are attached by a pole and when we did, he knocked two hats out of a stack that I needed later. And I have a full-on panic attack, because I'm running into another song, and I have half a second to get those hats and find the knocked-off two. – Broadway theatre
Another illustration is the show we performed the other night, which ended with each of us wearing ten hats. I made a little bow, spoke in a character, and all of my headgear started to fall off. As a result, there is a constant state of "Oh my God, what's going to happen?" It unquestionably keeps us awake.
If this is a Broadway show for your 40s, what is a show for your 50s? – Gutenberg The Musical – Broadway theatre
There are two roles that I have always wanted to play. One is Pseudolus [from A Funny Thing Happened on the Way to the Forum], one is Tavy [from Fiddler on the Roof] and who knows if I'll actually do that. But I wasn't looking for Gutenberg. Gutenberg found me, and I wasn't looking for the Book of Mormon, Book of Mormon found me and I wasn't looking for Spelling Bee, Spelling Bee found me. So something tells me that whatever my theater future has in store, hopefully it won't be a decade out this time, I'll know when the time comes. And it will be mostly unexpected.