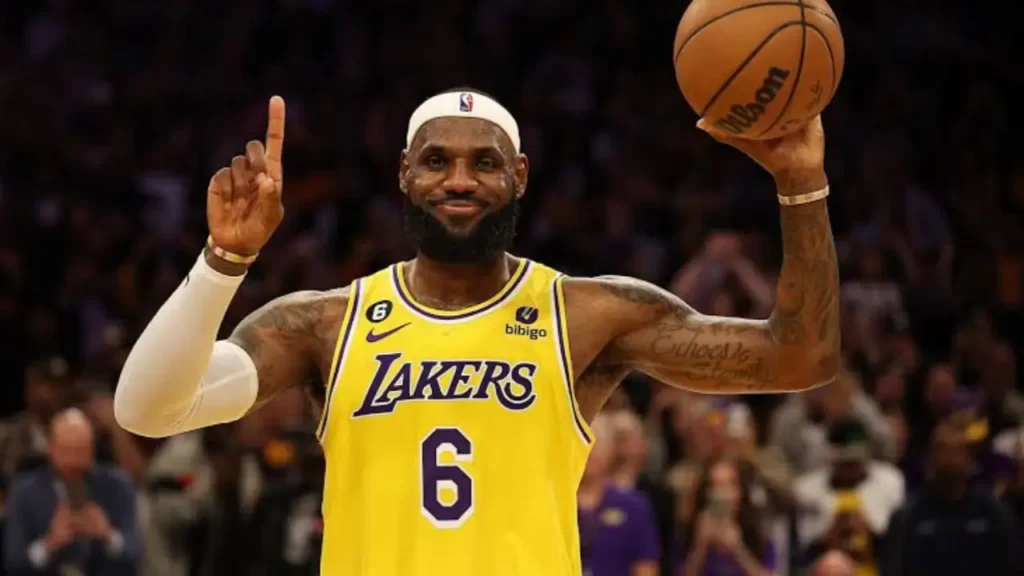 Lebron James Declared Nets Legend Drazen Petrovic as the Greatest International Player Ever
Lebron james news today: LeBron appreciated what Drazen Petrovic brought to the game in his prime.
In the late 1980s and early 1990s, Drazan Petrovic emerged as a truly unique player in the league.He was well-known for his prolific scoring style, which was largely fueled by his extraordinary talent at long-range shooting. Petro was a star player for the Portland Trail Blazers and the then New Jersey Nets.
With the Nets, he was scoring north of 20 points per game, making him one of the best scoring guards in the league. This helped him gain the respect of multiple NBA players and kids growing up around the league.
LeBron James, who previously regarded Drazen as the greatest European player of all time, was one of those youngsters.
All time? Best international player of all time? Dirk (Nowitzki) or Petrovic. His athleticism and ball-shooting skills were impressive. At the 2013 All-Star weekend, LeBron James declared that he was fearless. You knew he was incredible because he had no fear at all, not even of the present.
Also Read:- John Stamos Says Expanding Family with Wife Caitlin McHugh Stamos Isn't In the Cards
Why Drazen deserves to be considered as the top player in Europe Even while players like Mark Price and Reggie Miller were elite shooters in their day, they frequently played the role of spot-up shooters, depending on their colleagues to generate opportunities for them. However, Petrovic was excellent at setting himself up for goals. He could use his dribbling to break down his opponent and pull up from anywhere on the court.
He averaged 43.7% from beyond the arc on 2.6 attempts per game over his five seasons in the NBA. That was unheard of at the time because the league was still centered around mid-range or in-the-paint scoring.
Drazen was a player ahead of his time; Today, we see players like Stephen Curry and Damian Lillard making 10 three-point attempts per game, revolutionizing the game, and Without a doubt, the deceased Croatian would have been a great player in the modern game.
Drazen was not only a skilled attacking player, but he was also a "annoying" opponent. Reggie Miller, who regularly matched up against Drazen, didn't like playing against the Croatian guard.
Reggie stated on HuffPost Live, "I still tell people that was my hardest cover, and I hated it." Because he was so skilled at putting basketballs in my face and talking trash in my ear, his pranks drove me completely insane.
Drazen's legacy lives on
Petrovic met a tragic end in the summer of 1993, dying in a traffic accident in Germany. His memory lives on strongly in the legacy of the Brooklyn Nets, as his No.A proud 3 jersey is suspended from the Barclays Center's ceiling.
The Croatian maestro was a real trailblazer in the world of basketball. Today, with more than 100 European players, including MVPs like Nikola Jokic and Giannis Antetokounmpo, it's clear that Petrovic's legacy paved the way for a European presence in the league.
Drazen stands as a symbol for hard-working athletes, showing that physical gifts alone do not determine success. Through sheer determination and hard work, he rose to become one of the best players in the league, leaving an indelible mark despite coming from the other side of "The Pond".
As Drazen previously stated, "there are moments in every job, including basketball, when things don't go well, and you need to get out of that situation as soon as possible." Usually, the player needs to have the most confidence and self-belief possible in addition to receiving the most amount of training.
Let's remember and celebrate the life & career of The Mozart of Basketball, Drazen Petrovic ♾️

He would have turned 59 on this day 🙏 pic.twitter.com/bdDbikAX7z

— FIBA (@FIBA) October 22, 2023
Known as the Mozart of basketball, Drazen is one of the greatest heartbreaking stories in NBA history. At the time of his untimely death at the age of 28, the Nets were a promising team, poised to challenge the Chicago Bulls in the competitive landscape of the 1990s Eastern Conference. Unfortunately, fate had other plans.