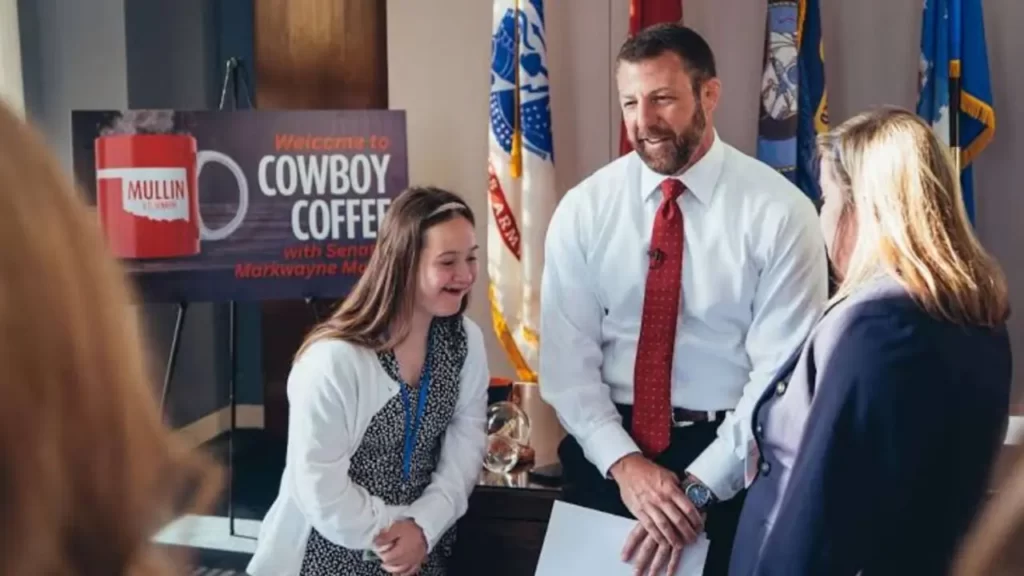 A GOP senator at the hearing challenges the Teamsters to a fight in a fiery exchange – Markwayne Mullin
Markwayne Mullin  : Republican Sen. of Oklahoma. Markwayne Mullin, the president of the International Brotherhood of Teamsters, challenged Sean O'Brien to "stand up your butt" and settle long-standing issues, which resulted in a heated exchange between the senator and a witness during a Senate hearing on Tuesday. Right there in the room.
Vermont Sen. The head of the Senate committee that was conducting the hearing, Bernie Sanders, called at Markwayne Mullin to get down after calling O'Brien for a brawl. Mullin rose from his seat on the stage and appeared to begin removing his ring.
After reviewing a number of scathing tweets that O'Brien had previously written about him, Markwayne Mullin said to O'Brien, "This is the time, this is the place." "We can be two consenting adults if you want to run your mouth. We can end it here."
Also Read:- Billie Eilish What learned from her own 'Barbie' song, 'What Was I Made For?'
In the courtroom, the two men never made eye contact. But they hurled insults at each other for nearly six minutes as Sanders repeatedly swung his gavel and tried to cut them off. Sanders, a longtime union ally, pleaded with them to focus on economic issues at the Senate Health, Education, Labor and Pensions Committee hearings, which Sanders is holding to review how unions help working families. .
"You're a United States senator!" At one point, Sanders shouted at Mullin.
Mullin, who frequently criticizes union leadership, has previously had disagreements with the union head. Earlier this year, O'Brien repeatedly posted about Mullin on X, formerly known as Twitter, calling him a "stupid" and a "complete —" after Mullin threatened Mullin for criticizing O'Brien at a hearing. Said tricks.
O'Brien seemed to challenge Markwayne Mullin to a fight in a different social media message, which Mullin read aloud at the hearing on Tuesday. "You know where to find me. Anywhere, anytime cowboy," O'Brien posted.
From that point on, Mullin told O'Brien that "this is the place" and asked if he wanted to do it right away. The exchange became more heated.
I'd love to do that right now, O'Brien said.
Mullin replied: "Well, stand your butt then."
"You get off your ass," retorted O'Brien.
When Markwayne Mullin got up from his chair, appearing ready to fight, Sanders yelled at him to sit down, hit him with his gavel several times and told the two to stop talking.
God knows the American people already despise Congress enough; let's not exacerbate the situation with these hearings, Sanders added.
As Mullin continued, O'Brien shot back: "You challenged me to a cage match, behaving like a twelve-year-old schoolyard bully."
The two traded angry insults for several more minutes — each calling the other a "thug" — at one point with Markwayne Mullin suggesting they fight for charity at an event next spring, repeating an offer he made on social media earlier this year.
O'Brien declined, instead suggesting they meet for coffee and iron out their differences. Markwayne Mullin concurred, but the argument between the two persisted until the subsequent senator, Democratic Sen. of New Hampshire. Maggie Hassan, speaking on them, began her questioning.
Following the hearing, Sanders referred to the conversation as "absurd."
We discussed a wide range of topics, including the issue affecting working families in this nation, the widening wealth divide, and the contribution of unions to raising the quality of living for all Americans. stated Sanders. said "We're not there to talk about cage fighting."
Asked later about the clash, Senate Republican Leader Mitch McConnell demurred. Controlling everyone's behavior in the building is really impossible, according to McConnell. I don't think it's my responsibility.
Sen. Kevin Cramer, Republican of North Dakota, said the back-and-forth references were made at the GOP conference meeting after the hearing. However, he warned that it shouldn't be taken too seriously.
About the Senate, Cramer remarked, "It's a dynamic place." "We don't wear white wigs anymore."